Wexford Volkswagen Stages Rally COC Appointed
Wexford Volkswagen Stages Rally 2017 (9th & 10th Sept)
Event Name: Wexford Volkswagen Stages Rally
Date:             09th & 10th September 2017
Stages:         15 Stages (220+kms)

Entries Price: €699 + plus €375 insurance levy = €1074 / Juniors €399 + €188 insurance levy (€100 back for both crews marshalling Saturday)

COC: Niall Mc Carthy 087-3408222
Easy payment option available!
Special Ferry Discount Code for UK Competitors
The Rally is a round of the following championships:
Round of Suirway Group South East Stages Rally Championship 2017
Round of Wexford Motor Club Championship
Irelands Modified Tar Masters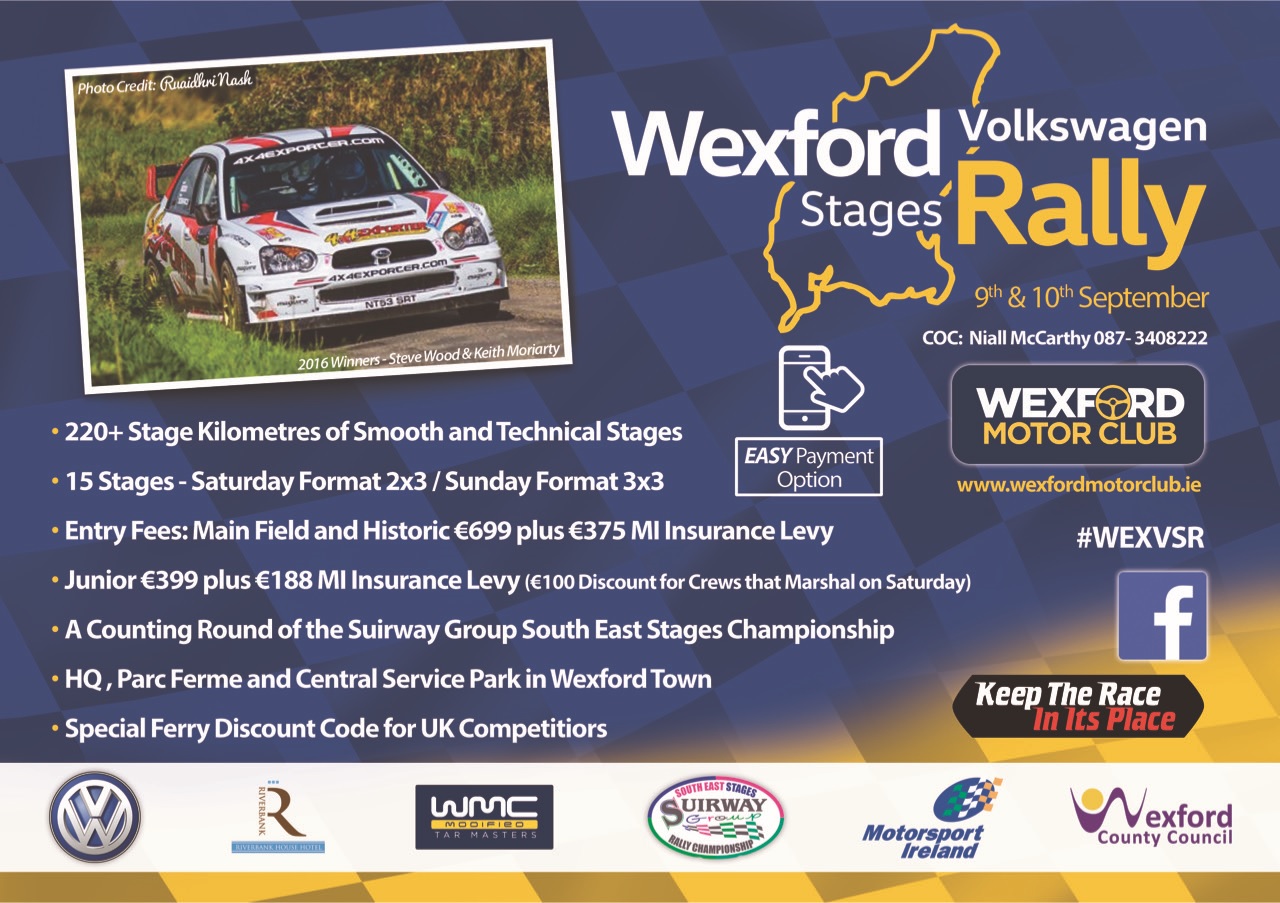 ——————————————————————————————————————-
Wexford Motorclub welcomes competitors from all areas of the tarmacadam rallying world  to the Wexford Volkswagen Stages Rally 2017, as our sport enters a very different year for  competitors and organising clubs alike.  We are pleased that the event has again attracted support Wexford Volkswagen and we are confident both Irish & the UK competitors will support it bigger than ever.
This year's rally will as usual form part of The Suirway Group South East Stages Championship.
For 2017 the event is again based at the Riverbank House Hotel. The route is currently in the planning stage and will be available soon. The service area will be in Wexford Racecourse on both days.
We look forward to welcoming both old and new competitors to the event and we would like to wish everybody a successful, enjoyable and safe weekend of rallying.
The Organisers
Pay For Your Rally Entry In Stages!
Wexford Motor Club is delighted to be the first motor club in Ireland to launch a new online payments system for entry into our calendar of motorsport events. With the rise in insurance costs and other costs related to the sport, we have launched this new scheme to help members and competitors to save and pay for entry into our events in a more convenient and flexible way, and to help keep the Clubman rallying.
The new online payment facility allows competitors pay for their entries for all Wexford Motor Club Events in stages. You can pay as little as €10 per installment or you can just pay the full entry fee in one go. So for example if you started paying €30 per week now, you could be taking part in our Wexford Volkswagen Stages Rally 2017 in September!
An online gift of credit towards your motorsport entry would also make an ideal Valentine's Day, birthday or Christmas gift, so please make sure to let your loved one know about our new scheme and you may find yourself with a nice surprise!