Wexford Rally Monthly Round Up #2 December 2021/January 2022
With no rallies in December, competitors were limited to rally sprints. But the 2 sprints in Mondello and Cork had lots of Wexford men and women out, with plenty of big results too.
First up was the annual Carlow Rally Sprint in Mondello. Plenty of Wexford competitors made the trip up to Kildare between Christmas and New Years. Top Wexford prep man, Nicky Cahill of NCRS had nearly half a dozen cars out alone. Ultimately, top Wexford man on the day was Nicky's son, Sean Cahill in a TN5 buggy. Sean has been helping Mooncoin man, Jack Brennan competing in the FIA cross kart championship throughout 2021 in his TN5 buggy. A rapid buggy driver in his own right, Sean and Jack's father, Peter double drove Jack's buggy, with Sean coming out on top! Sean finished 8th overall out of a quality field including top cars and drivers.
Second Wexford man home was John Hayes in the Civic R3. John managed 3rd 2wd car on the day, marking his best ever result in Mondello and continuing a good run of finishes. Darren O'Connor and Seamus O'Grady double drove Darren's immaculate Mk2 escort, with Darren coming out on top of the pair. Seamus' progress was hampered with a couple of spins, but luckily no damage to his friends escort! 2nd and 3rd in class for the pair. Long time competitor Paul Cloke split the pair in his Honda Civic. Paul's experience earned him a trouble free run and a solid finish. Key Wexford clubman, Brian Kirwan, had a fantastic run to 2nd in class. The bright yellow Peugeot lighting up the dull day. Brian made it a family affair, competing against Elaine in her Starlet, with Brian taking the Kirwan honours on the day. Family rivalries are the best rivalries!
John O'Rourke debuted his Opel Adam R2. A rare car on these shores, big results can be expected once John gets some seat time in the pocket rocket. Another man to debut a new R2 car was Dan Nash ably guided by his father Andy Nash, a highly experienced driver in his own right. Starting out his rally career, Dan could be another man to watch. Great to see more R2 cars coming to the county.
Just a couple of places behind Dan, was Jack Byrne in his Ford KA. Having coming up through the rally cross ranks, Jack has proven himself to be one of the quickest young drivers in the county. Jack has his father David guiding his driving career and will no doubt be seen on the rally stages in the coming years. Jack shared the car with his mam Leanne who could be forgiven for letting Jack get the better of her. But still a solid result on the day for Leanne who is instrumental in the Wexford Motor Club Youth Academy.
Another key clubman, Garry Bradley, brought his Mini home safe. Garry is more often seen helping out with the Wexford Motor Club Junior Academy so it was great to see him out competing in his own right. Leading by example, he had a clean, trouble free run. Not far behind, after John Barry is his Mini, came Josh Power. Josh was driving the Wexford Motor Club Academy Peugeot 106. Josh has been progressing really well in the academy and it's great to see so many Wexford juniors out and about. Josh's comrade in the academy, Cian Murphy was just behind in his Peugeot 106. Again it's a testament to the to the academy and the quality of the drivers in it to see so many juniors out and about competing all over the country.
Unfortunately both Owen Cardiff and Dermot Roche didn't manage a finish in their respective Novas. Normally seen competing together in Owen's nova, the pair were out in separate cars in Mondello, with bragging rights at stake. Quickest time of the day between the pair went to Owen who will no doubt remind Dermot regularly! Unfortunately Jack and Mark Kennedy didn't get a classified finish ahead of their run out in the cork rally sprint.
Just 2 days later, the Cork Motor Club Sprint was held in Boggeragh, just outside Mallow. Top Wexford club members on the day were Brendan Stone and JP Ruth. The two Kilkenny men put in a fine finish at 5th overall and will soon become honorary Wexford men if they keep putting in results like that!!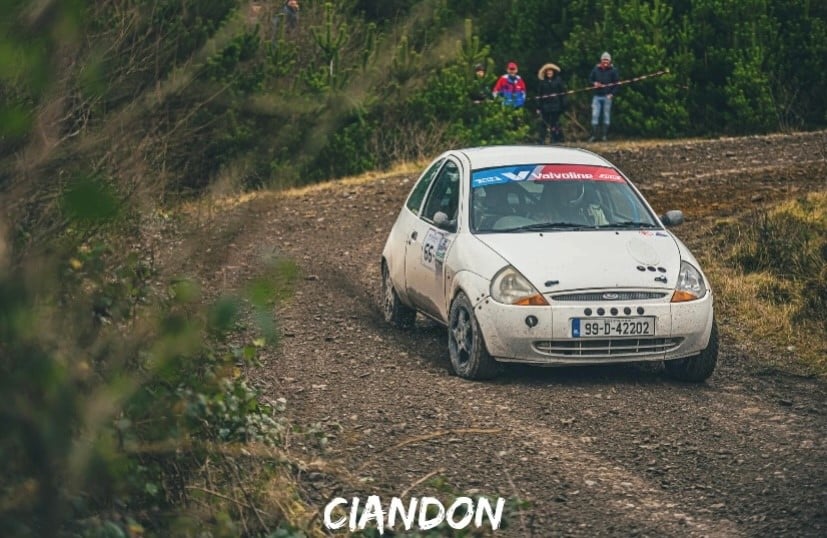 Top Wexford based driver on the day was young Jack Byrne, fresh from his exploits in Mondello. This time, he had his dad David beside him and the pair secured an impressive 3rd in class. They had a very good run through the first 3 stages but unfortunately lost 20 seconds on SS4 with a puncture near the start. Even still, a fine result.
John McGrath had a fantastic result, navigating the young Jack Brennan to 1st overall in the J1000 category. Johns experienced level head combined with Jacks driving talent proved too much for the rest of the J1000 class.
A little further back Jack Kennedy had a strong showing in his Nissan Micra with dad Mark navigating. A very quick man himself, Mark was showing Jack the ropes on the gravel. 4th J1000 and big things expected from this pair in the future. Another Kennedy family member, Saoirse Kennedy had her first experience of gravel rallying, navigating for Adam Grace in the Ford KA. A small off on stage 1 didn't dent the pairs enthusiasm and stage times for the rest of the day. Some big times showed their potential.
Junior Wexford Club Member Letisha Conn, had a strong finish with Dad Stephen in their J1000 Citroen C1. Finally, Andy Hayes navigated Ray Breen to 2nd overall in the Focus WRC. Separately, Andy navigated Daniel Barry to 6th overall in the Spa Rally in Belgium earlier in the month.