Wexford Volkswagen Stages Rally 2017
Our 2017 Stages Rally will take place on September the 09th & 10th 2017
Event Name: Wexford Volkswagen Stages Rally
Date:             09th & 10th September 2017
Stages:         15 Stages (220+kms)

Online Entry: Online Entry Available Here 2017
REGS PDF: REGS Wexford Volkswagen Stages Rally 2017 Final
2017 Rally Classes (please note these may vary as per the regs)
Seeded Entry List 2017 (Pdf version): Seeding 2017
T&D Saturday: T+D Saturday 2017
T&D Sunday: T+D Sun 2017
Final Instructions : WILL BE HERE
Entries Price: €699 + plus €375 insurance levy = €1074 / Juniors €399 + €188 insurance levy (€100 back for both crews marshalling Saturday)

COC: Niall Mc Carthy 087-3408222
Easy payment option available!
Special Ferry Discount Code for UK Competitors
The Rally is a round of the following championships:
Round of Suirway Group South East Stages Rally Championship 2017
Round of Wexford Motor Club Championship
Irelands Modified Tar Master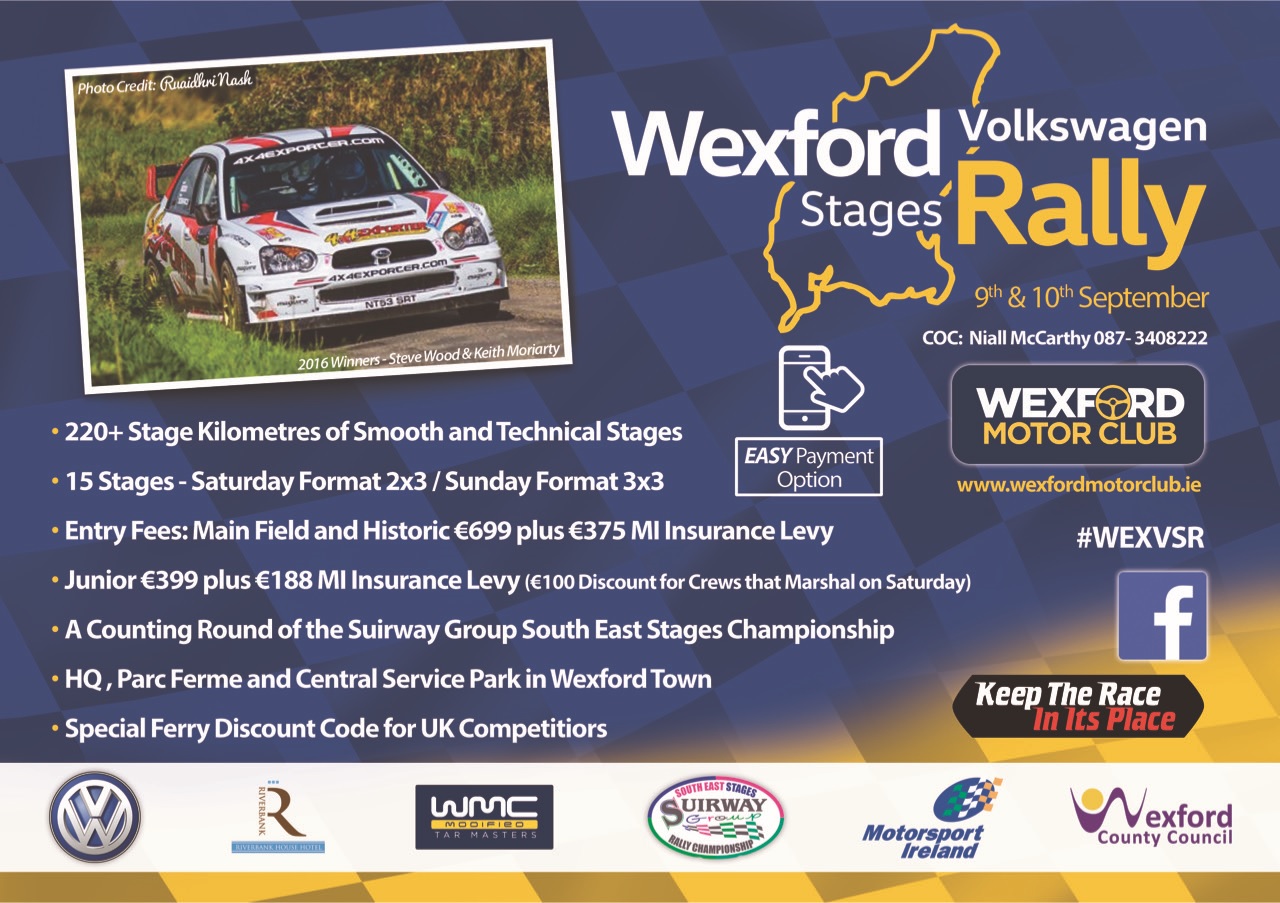 Wexford Motorclub welcomes competitors from all areas of the tarmacadam rallying world  to the Wexford Volkswagen Stages Rally 2017, as our sport enters a very different year for  competitors and organising clubs alike.  We are pleased that the event has again attracted support Wexford Volkswagen and we are confident both Irish & the UK competitors will support it bigger than ever.
This year's rally will as usual form part of The Suirway Group South East Stages Championship.
For 2017 the event is again based at the Riverbank House Hotel. The route is currently in the planning stage and will be available soon. The service area will be in Wexford Racecourse on both days.
We look forward to welcoming both old and new competitors to the event and we would like to wish everybody a successful, enjoyable and safe weekend of rallying.
The Organisers
Regulations 2017 : WILL BE HERE

Entry Form 2017 : WILL EB HERE

Online Entry Form 2017 : WILL BE HERE
Final Seeded Entry List 2017 online version: WILL BE HERE 

Seeded Entry List 2017 pdf version: WILL BE HERE
Final Instructions : WILL BE HERE
_________________________________________________________
2016 Items
Time and Distance Saturday 2016
Seeding 2016 Wexford Volkswagen Stages Rally Entry List
Regs Online: http://www.shannonsportsit.ie/evo/Entry?event=IE-WXFD-WX16
Reg's Print Version: Wexford Rally Regs-Entry Form 2016 Final
https://www.youtube.com/watch?v=ntUv4Wgvr58&feature=youtu.be
Irish Ferries UK To Ireland only £217 Irish Ferries
Everyone at Wexford Motorclub and the Sub Committee of the Wexford Stages Rally 2015 would like to take this opportunity to thank everyone for the help and support over the weekend! None of it went unnoticed and we would like to express our sincere thanks to each and every one of you, for making it one of the most successful Wexford Stages Rallies! I hope ye all would agree. Many Thanks!
Wexford Stages Rally 2015 Final Results
Main Field: Wexford Stages Rally Final Results
Juniors: Wexford Stages Juniors Rally Final Results
RALLY RESULTS: http://results.djames.org.uk/results/?m=81
Updated Entry List – Updated Entry List 09.09.2015
Time & Distance Schedule is available to Competitors by Request on Email
FINAL INSTRUCTIONS 1: Final 1 2015
Wexford Motor Club – Entry List Wexford Stages Rally 2015
Non Seeded Entry List 26-08-2015 Non Seeded List 26-08-15
Press release 1: 2015 Wexford Stages Rally Press Release 26 08 2015 Final
Regs are avalable – Online – http://www.shannonsportsit.ie/evo/Entry?event=IE-WXFD-WX15
Printable Version  – 2015 WMC Regs
The event this year is organized by a separate Rally Committee. Graham Scallan asks that anyone who wants to get involved please do so by contacting him.
This year's event will have its usual two counting's rounds of the 2015 Suir Way Agri South East Stages Championship.
The stages on Saturday are based in Enniscorthy Area and Sunday is in the Adamstown area.
2 DAY RALLY IN WEXFORD ONLY €599
JUNIORS €350 (€100 BACK FOR MARSHALLING)
15 STAGES
250KMS OF SMOOTH TECHNICAL STAGES
COMPACT ROUTE
EARLY FINISH ON SUNDAY
NEW AWARDS ***watch this space***
COUNTING ROUND OF THE SUIRWAY GROUP SOUTH EAST STAGES CHAMPIONSHIP
Accommodation Listing 2015 – Press here- Accommodation Wexford Area 2015

SCRUTINY REQUIREMENTS 2015 – Press here – Scrutiny Requirements 2015