2020
**Due to the Covid19 Pandemic the 2020 Youth Academy Programme was suspended in March 2020**
The Wexford Motor Club Youth Academy is open to children aged between 10 and 16, and will consist of two elements, a Race Programme and a Technician Programme. These Programmes are designed to provide a fun and enjoyable introduction to motorsport.
The Race Programme will be split into classes according to age and height and will consist of six workshops from January to June, five of which will take place in Non-Stop Karting, Waterford. Each workshop will consist of a driving theory class, followed by on-track racing and SIM training. Each day, students can earn points for performance, and at the end of June students with the most points will progress onto the next step for selection, culminating in sponsored Kart, SIM and Rallycross events.
The Race Programme for 2020 is an all new format developed after feedback from past graduates and their parents. It incorporates much more track time for all students than previous years but introduces a cost to the participant for each workshop. The aim of the Race Programme is to improve the driving abilities and techniques of all the students and focuses on participation and enjoyment of the sport.
The Technician Programme will consist of six hands –on workshops from January to June and will take place at various locations. These workshops are designed to get students familiar with different aspects of science, technology, engineering and maths and explore the career paths available in motorsport, from auto technician, race engineer, engine specialist & computer & data analytics. The workshops will be mostly practical with the students getting to work on real cars and engines, but will include talks from people who have made a career in motorsport. There will be continuous assessment throughout the workshops and students will be graded at the end of the programme and receive a certificate of achievement. There is no cost for participation in this programme.
Also for 2020, we are introducing a Youth Leadership Programme for past graduates who are 16 years or older. This programme is designed to continue the learning and personal development which begins at the very first workshop and aims to give the necessary skills and training for students to become confident and effective leaders, while strengthening the community which has developed around the Youth Academy. This will be an accredited programme and should prove invaluable to students in their professional and personal development.
---
2017
Wexford Motorclub Youth Academy Page.
Workshop Schedule – Provisional times and dates for 2017

1- Rally HQ – Induction 7th Jan – 10am to 1pm
2- Intro to running RX car Wed 18th Jan – 7pm to 8:30pm
2- Mondello park circuit (Sunday) 5th Feb – 8.30am to 5pm
3- Rally HQ – 18th March – 10am to 1pm
4 –Rally HQ 15th April 10am to 1pm
5- R-One karting – 13th May – 10am to 2pm
7- Interview May
8 –Test drive day (karting) 10th June
9- British rallycross Mondello 22nd/23rd July
10- Irish Championship Karting 26th /27th August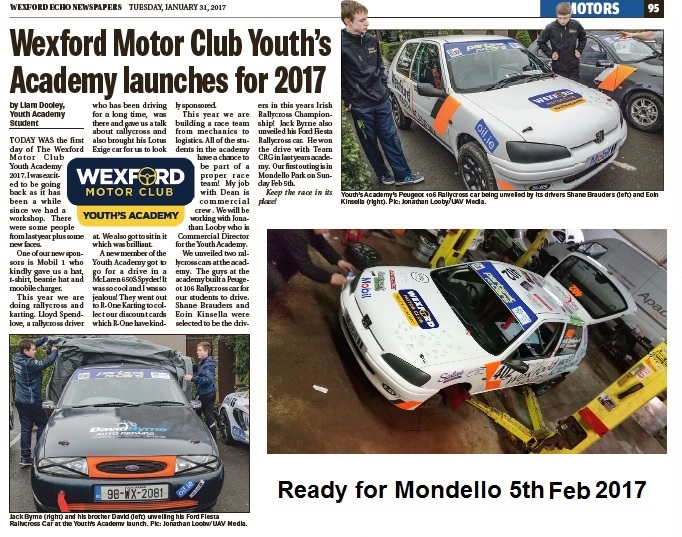 The 7th of January 2017 saw The Wexford Motorclub Youth's Academy kick back into action.
Report below by Youth Academy Member: Liam Dooley:
I was excited to be going back as it has been a while since we had a workshop there were some people from last year plus some new faces.
Our new sponsor is Mobil 1 who kindly gave us a members pack with beanie hat's, t-shirt and chargers etc.
This year we are doing Rallycross and Karting.
Lloyd Spendlove was there and gave us a talk about Rallycross and also brought his car for us to look at.
A new member to the Youth Academy got to go for a drive in a 2016 Mc Laren P1 it was so cool and I was so jealous! They went out to R-One karting to collect our discount cards.
This year we are having a race team from mechanics to logistics my job with Dean is commercial crew we will be working with Johnny.
We unveiled two rallycross cars at the academy our first outing is Mondello Park on Sunday Feb 5th
Our next meeting will be in NCRS in Enniscorthy where we will be getting advise and tips on how to run the rallycross car for when we go to Mondello on February the 5th.
Keep the race in its place!
Liam Dooley
2017 Yearly Costs
Entry is €20 per child and max €50 per family
Our 2nd workshop will be in Mondello park on 5th Feb. we will run a bus to this event at a cost of €20 for bus up and back and entry into round 1 of the rally cross championship
We will provide kids with 50% off discount carts for R-One karting we will ask kids to post there best times on our leader board, feel free to go a little or as much as you like. Prices start from €20pp so will be cost of €10 with discount card
If your child is lucky enough to qualify to the top 5 in their class/ discipline there will be a €50 charge for the test day to part cover the track fees
BELOW HERE WAS 2016
Points After Round 1:
https://www.facebook.com/Youthacademywexfordmotorclub/videos/610181412474131/
First Workshop was Saturday 19th March in the Riverbank House Hotel
Press Release
12th February 2016: For Immediate Release
Wexford Motor Club Launches Youth Academy
Wexford Motor Club is delighted to announce the launch of the new Wexford Motor Club Youth Academy, an exciting new initiative to nurture and encourage more local young people into motorsport.
The Club recognises that it can be intimidating and challenging for young people who do not have a family background in motorsport to get involved. The aim of the Wexford Motor Club Youth Academy is to reach out to the local Wexford community and facilitate more young people to realise their dreams of partaking in our exciting and rewarding sport.
Commenting on the launch of the Wexford Motor Club Youth Academy, Graham Scallan, Chairman of Wexford Motor Club said, "We are delighted to be able to offer this opportunity to young people living in Wexford to get involved in our sport, and we look forward to welcoming them to our Club."
He added: "The Youth Academy will be the missing link that will help facilitate getting more young people involved in our sport who may not know how and we can begin nurturing hopefully some more home-grown Wexford motorsport talent of the future."
After a successful schools programme in 2015 to introduce aspects of motorsport to local schoolchildren, feedback from parents was so positive that the Club began to design a new scheme for budding motorsport enthusiasts that would bring them closer to the action.
Club members have been instrumental in bringing this scheme to fruition, with Club members Garry Bradley, Johnny Looby, John McGrath, among others, working hard to design a scheme that will be rewarding and appropriate for young people.
"This Youth Academy has been very well-coordinated and planned by Garry Bradley and his team," said Graham Scallan. "They have done a massive amount of work and as a volunteer organisation, it's wonderful to see the commitment and energy coming from our members for such a worthwhile initiative."
The Wexford Motor Club Youth Academy is the first launched in Ireland. It will be open to children aged between 8 and 16, and will consist of a number of workshops taking place over 8 months between February and September 2016.
These workshops are designed to provide a safe and enjoyable introduction to motorsport and prepare participants for their first karting event. The course content includes theory and practical aspects, including kart testing. The course will culminate in a competitive karting race held over a weekend in September 2016.
The Wexford Motor Club Youth Academy is supported by Motorsport Ireland with the help of the CRG Kart Ireland Race Team, and is part of a nationwide push to make motorsport more accessible to local communities and allow more people to partake in our fantastic sport.
Wexford Motor Club has been working closely with Art McCarrick, Sport Development Officer, Motorsport Ireland, to produce course content that will be beneficial to any motorsport newcomers, and also leave participants who wish to continue on their race career in a good position to get a first racing licence with Motorsport Ireland.
These are exciting times for Wexford Motor Club and the Youth Academy is part of a wider development plan including a relaunched Club Championship and the inclusion of a number of key guest speakers at Club meetings aimed at improving member's knowledge of the sport, with safety being a continued priority.
Wexford Motor Club was established in 1971 by a small number of local Wexford motorsport enthusiasts. The Club has grown over the years and now has over 150 members. The Club organises four events each year, including the popular Wexford Stages Rally, and together these events add an impressive €750,000 to the local Wexford economy.
Recognising the value of Wexford Motor Club to the local economy, Wexford Chamber of Commerce, Wexford County Council and Fáilte Ireland are working closely with members to develop the Club further.
The official launch of the new Wexford Motor Club Youth Academy is Saturday 20th February at 10am in The Riverbank House Hotel, Wexford.
All Welcome and it's free to join! Limited Spaces Available!
Notes to Editors:
For further information, please contact Garry Bradley Mobile: 085-7313711
Web: www.wexfordmotorclub.ie